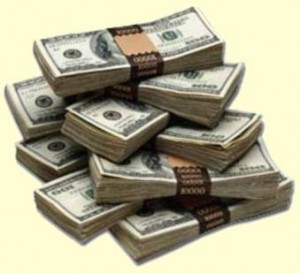 Ask yourself this: Is that stack of money how much it will cost me to have a website, or how much its costing me NOT to have one?
So how much does it cost? It depends:
Are you having a brand new website designed?
Are you upgrading an existing website?
Do you intend to accept payments on your website?
Do you already have a domain name registered?
Do you already have a host for your website?
These and many other factors affect the cost of designing a website.
Are you able to maintain the website once it is launched?
Will you need support to modify catalog entries or change prices?
Do you know how to add new products or services to your website?
Can you modify your website for seasonal or holiday specials?
You must be prepared to make routine updates to your website or hire someone to maintain it for you.
But you were looking for a number, weren't you? In my opinion, you can't get much of a website for under $500. And if you plan to offer items for sale at your website, you could expect to be charged around $5000. The more interactive your website becomes, the more you will be expected to pay. It isn't unusual for medium to large businesses to pay upwards of $10,000 plus a substantial monthly maintenance fee for their websites.
Shop around. Do your homework. You should have a pretty good idea what you want your website to look like before you hire someone to put it together for you. Look on the internet for similar businesses. What features on their website do you want to incorporate in yours? What don't you like about their website? Is there some feature they are missing that you can capitalize on? Present your website designer with your list of URLs and the pros and cons of each. Armed with this information, your website designer will be better equipped to present you with a professional product in a minimum amount of time.
And that brings us to time. Time is money. If your website designer has to go back and forth showing you different variations of the same thing, his time will cost you more money. My suggestion: get your website online as soon as possible. Millions of people are searching the internet 24/7/365 and they can't find you until you launch your website. You can always make changes later. Time is of the essence! As Larry the Cable Guy would say, "Git-R-Done".